Roulette is one of the easiest game to play and understand in the casino. As usual the easier a game is to understand the greater the house edge, and roulette is no exception. If you are looking for a easy to understand and slow paced table game, and are willing to sacrifice on the house edge, then you may like roulette. If you want something more stimulating or with a decent return I would suggest looking at other games.
A roulette wheel consists of 37 or 38 numbered slots: numbers 1 to 36, a zero, and in most places in the United States a double zero. The betting layout consists of every individual number as well as a host of "outside" or combinations of numbers. After the players make their bets the dealer spins the wheel and a ball and after several seconds the ball will land in one of the numbered slots.
One difference between roulette and all other table games is that roulette chips have no value denomination printed on them. This actually is the true definition of a chip, one which indicates its value is technically called a check. The roulette table comes with six to eight sets of different colored chips, each set consisting of 300 chips. When a player buys-in they get their own color and the value would be the buy-in divided by the number of chips received. The dealer will place a token on top of the dealer's stack of that color of chips to indicate the value.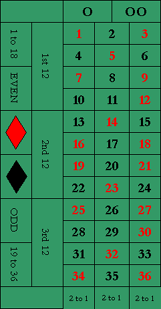 United States Rules

Bet

Pays

Probability

Red

1:1

47.37%

Black

1:1

47.37%

Odd

1:1

47.37%

Even

1:1

47.37%

1 to 18

1:1

47.37%

19 to 36

1:1

47.37%

1 to 12

2:1

31.58%

13 to 24

2:1

31.58%

25 to 36

2:1

31.58%

Any column

2:1

31.58%

Any one number

35:1

2.63%

Two number combination

17:1

5.26%

Three number combination

11:1

7.89%

Four number combination

8:1

10.53%

Six number combination

5:1

15.79%

0,00,1,2,3 combination

6:1

13.16%
---
United States Rules, except Atlantic City
Most roulette wheels in the United States have both a zero and a double zero. These double zero roulette games have a house edge on every bet of 1/19, or 5.26%, except the 0-00-1-2-3 combination which has a house edge of 3/38 or 7.89%.
A few places offer single zero roulette in which the edge on every bet is 1/37, or 2.70%. The list below shows some places that I have seen or heard have single zero roulette, although keeping it up to date is not a priority of mine. These single zero wheels usually have a high minimum.
The Tropicana (Las Vegas)

The Monte Carlo (Las Vegas)

The Stratosphere (Las Vegas)

Mandalay Bay (Las Vegas)

Grand Casino (Tunica)
---
Atlantic City Rules
Atlantic City roulette uses a double zero wheel but follows the European imprisonment rule (see below) on even money bets. This lowers the house edge on the red, black, odd, even, 1 to 18, and 19 to 36 bets to 1/38, or 2.63%. At the Claridge, and possibly other casinos, even money bets only lose half on a single or double zero, which amounts to the same house edge.
---
European Rules
There are two differences between United States rules and European rules. The first is that in Europe there is only one zero. The second is called the "imprisonment" rule which states that if the ball lands in zero all even money bets are imprisoned. If on the next spin the bet wins the wager is returned. If the next spin is another zero then half the bet is returned. If the bet otherwise loses on the next spin then the house collects the full bet. The house edge is 1/74, or 1.35%, on the even money bets and 1/37, or 2.70%, on all others.
---
The numbers on the wheel
To the casual observer it would appear that the numbers on the wheel are not organized and seem to be distributed randomly. The only obvious patterns are that red and black numbers alternate and that usually two odd numbers alternate with two even numbers. However the distribution of numbers was carefully arranged so that the sum of the numbers for any given section of the wheel would be roughly equal to any other section of equal size. In particular the numbers are usually organized in pairs, with one number in between, and whose sum is either 37 or 39. This is true of all of the following pairs: (10,29), (25,12), (29,8), (12,19), (8,31), (19,18), (31,6), (18,21), (6,33), (21,16), (33,4), (16,23), (4,35), (23,14), (35,2), (9,30), (26,11), (30,7), (7,32), (20,17), (32,5), (17,22), (5,34), (22,15), (34,3), (15,24), (3,36), (24,13), (36,1). The only numbers that fall outside this pattern are 27,14,2,28,11,13, and 1.